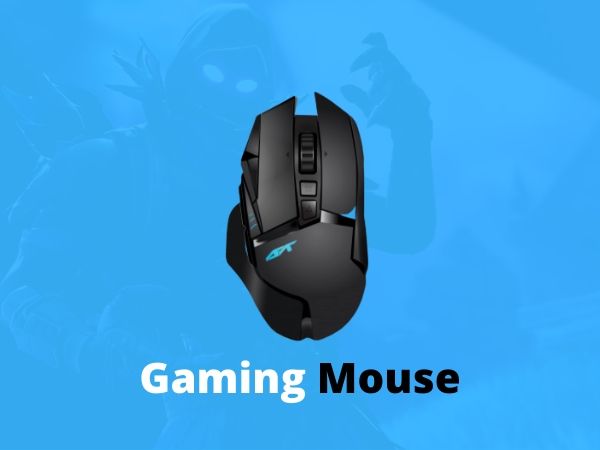 I always say, online gaming is not a hobby – it is a cult and it is a community.
Click Gaming geeks don't mind if they have to break the bank to make the best rig among their friends.
They love to show off their gaming set offs and it is only logical if they buy a $100+ gaming mouse for an average gaming setup that costs anywhere from $800 to $2000+.
And gaming mice is what this post is all about; I've compiled reviews of and buyer's guide for the best gaming mouse or mice for 2020.
IMAGE
PRODUCT
DETAILS

Logitech G502 Proteus Core

RGB Colors:

16.8mil

Sensor:

200 – 12000 Optical

Buttons:

11

Ambidextrous:

Right Handed

Check On Amazon

MOUSE FOR FPS GAMES (12000 DPI)

RGB Colors:

20mil

Sensor:

12000 Optical

Buttons:

8

Ambidextrous:

Right

Check On Amazon

RCB Colors:

16.8mil

Sensor:

16k Optical

Buttons:

7

Check On Amazon

Wireless Mouse for Gaming

Wireless Mouse for Gaming

Colors:

16.8mil

Sensor:

200-12000 Optical

Buttons:

11

Check On Amazon

AMBIDEXTROUS GAMING MOUSE

AMBIDEXTROUS GAMING MOUSE

RGB Colors:

16.8

Sensor:

250 – 2500 Optical

Buttons:

9

Check On Amazon

Colors:

16.8mil

Sensor:

10000 Optics

Buttons:

8

Check On Amazon

Colors:

16.8

Sensor:

16000 Laser

Buttons:

14 – 7 on side

Check On Amazon

Colors:

Limitless/4-Zone Colors

Sensor:

12000 Optics

Buttons:

17 – 12 on side

Check On Amazon

RGB Colors:

Chroma Lighting

Sensor:

Razer Lancehead

Buttons:

14

Check On Amazon

Colors:

Limitless/2-Zone

Sensor:

16,000 CPI Optical

Buttons:

7

Check On Amazon
List of Top Gaming Mouse – Best Picks - Read Full Reviews
In case your gaming mouse is not working accurately, you can check the clicks speed test info on our website. The CPS test is made to test mouse speed and accuracy within 1 second.
1. Logitech G502 Proteus Core -

Bestseller
At the time of writing this post, this mouse has got over 2,600 reviews with the 4.4/5-star rating. And it is not only because Logitech is a big name in the computer mouse industry, but because of the amazing features and customizability of this mouse.
2. Corsair Sabre -

Best Budget
At the moment, this mouse is available for less than $30 on Amazon. However, being the best budget gaming mouse is not its only virtue; it is a very lightweight mouse with ideal DPI and it can be programmed as well.
3. Logitech G300s -

Best Ambidextrous
It does not matter whether you're a righty or a lefty, you can use this mouse because it is the best ambidextrous gaming mouse on this list.
4. Razer Naga HEX V2 -

Best MMO
Do you love playing MMO (Massively Multiplayer Online Game)? If the answer is yes, then you already know that time is money in such a game and you need multiple buttons at your disposal – this why I consider this one the best MMO mouse.
5. Logitech G900 Chaos Spectrum -

Best Wireless
This is a wireless rechargeable mouse with a battery life that can stand more than 24 hours of continuous wireless gaming – one of the longest-lasting wireless/rechargeable gaming mice.
6. Corsair Gaming Scimitar -

Best Programmable
There are 8 keys programmable mice and then there is Corsair Gaming Scimitar that has a whole Numpad consisting of 12 customizable mechanical buttons waiting to be pressed by your trigger-happy thumb.
7. Razer DeathAdder Elite -

Best Native DPI
While average gaming mice have a DPI range from 10,000 to 12,000, this one has got a 16,000 DPI optical sensor – on top of that, it is programmable and its DPI sensor is optical.
1- Logitech G502 Proteus Core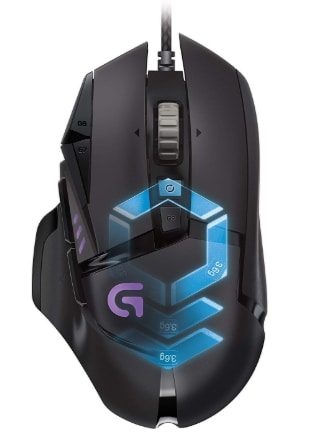 Logitech G502 Proteus Core is the version that was succeeded by Proteus Spectrum – but since this is the basic version that introduced an all-purpose and highly customizable gaming mouse to the community, I considered this one for this review.
Features:
Surface Tuning Calibration – This mouse has an optical sensor – I will discuss in the detailed guide while the optical sensor is better than the laser one. The best thing about this sensor is that you can tweak the sensor as per any surface and get the best results.
11 Programmable Buttons – This gaming mouse takes customizability to a whole new level. The 32-bit ARM processor lets you assign roles to all 11 buttons and it remembers all of them.
200 to 12000 DPI – They call it the "on-the-fly" DPI management – the default settings let you use G7 and G8 buttons to customize the DPI anywhere from 200 to 12000 so you can make the most out of this mouse. There are 5 settings that cover a big dots-per-inch sensitivity to real estate.
Weight & Balance Tuning – They have revolutionized the way you feel about your gaming mouse. Just like you tweak a physical tool that you use, you can tweak the weight and balance of this mouse. Change the position of one or all 3.6g weights to enjoy the weight and balance of your choice.
Dual Mode Hyper-Fast Scroll Wheel – There are two things that you need to know the scroll wheel of this mouse. First of all, it is designed for hyper-fast scrolling and in that it gives you a precise and accurate clicking much needed for multiplayer games, the second thing is that it doubles as a middle click button. You can even customize what happens when you click it instead of scrolling it.
PROS:
Unique and Innovative Design
Really Good DPI
Highly Programmable
Customized Precision and Balance
CONS:
Not Ideal for Claw Grip Users
Button Placement Could be Better
Bottomline – Apart from the claw grip issue, the only considerable con is that button placement might not be equally good for different hand sizes. Otherwise, this is an ideal gaming mouse for clicking games that reflects attention to details. Take that weight and balance calibration for an example.
2- Corsair M65 Pro RGB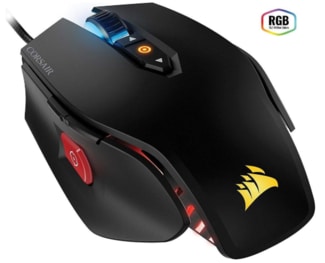 I believe that Corsair is still an underrated company for the kind of computer equipment (not only mice) it is making. In case the word RGB in the name of almost every other mouse confuses you, do know that it means you can change the LED color on your mouse – choosing from Red Green and Blue colors.
Features:
12000 DPI Optical Sensor – Just like the Logitech G502, this one also has an optical sensor. In terms of better control on all sorts of surfaces, an optical sensor is considered better than the laser one. This one has the capacity to do a maximum of 12000 DPI too.
Aircraft-Grade Aluminum – The material of this mouse is aircraft-grade aluminum. Due to this material, not only the mouse is very sturdy and durable, but it has an optimal weight distribution too. Weight and balance matter a lot when it is a gaming mice.
Surface Calibration Tuning – This mouse is also enabled with advanced surface calibration tuning. The pixel-perfect calibration and tuning make this mouse compatible with just any kind of plain surface.
Optimized Button to Customize DPI – The sniper button on the side can be used to optimize the DPI then and there when a game demands you to increase or decrease the mouse speed. While maximum DPI is 12,000 you can choose a speed as per the demand of the game.
The Power of iCUE – A very smart thing that discriminates this Corsair mouse from others on the list is the way how you can customize the mouse. You know that each video game is different and for each game you want to use your mouse in a different way. The iCUE technology lets you save your preferences for each game, customize the mouse for double macros and apply many other custom settings.
8 Programmable Buttons – 8 is a pretty standard number of buttons (including mouse), that you can personalize for your gaming needs. There are such mice that are bent on customization and that have 12 or so buttons, but for a guy with normal button personalization needs, 8 is perfect.
PROS:
Really Good Sensor
Maximum Personalization
Swift and Fast DPI Optimization
8 Programmable Buttons
CONS:
Not Durable Enough
Small Lighting Area
Bottom line – As you can see, this is such a great gaming mouse for fortnite that the only issues customers or us reviewers could find are how mouse ends up having durability issues after a few years and how RGB area is small. This is a genius product and you can tell this by the level of customization that you enjoy with this mouse.
3- Razer DeathAdder Elite - Best for FPS Games
What if you're a person who is not much concerned about the customization of the mouse, programmability and other such features, but who needs a maximum DPI mouse? What if your FPS (First Person Shooting) game's multiplayer mode needs you to be super quick – like lightning quick with your movements? I'd say go with Razer DeathAdder – our Best DPI mouse.
Features:
16,000 DPI Optical Sensor – Yup – in case you were wondering as to how many DPI this mouse can cover, the maximum number is 16,000. 16,000 is way more than the DPI offered by the best DPI gaming mice (12,000). On top of this DPI real estate, you got an optical sensor.
Customizable Chroma RGB – How insane can be your mouse's RGB profile? How many colors you can have – to what limit you can customize? These questions are important. This mouse has 16.8 million color combinations on top of preset profiles – suffice to say.
Durable Mechanical Switches – Yes, this mouse is not a piece of other-worldly hi-tech from 3019 – it's not even wireless, but the mechanical switches last longer than any other alternatives. The switches on this one – for example, can sustain 50 million clicks and there's a 2-year warranty to cover everything.
Rubberized Scroll Wheel – The scroll wheel is rubberized so not only the users enjoy a very good grip, but rubber feels friendlier than plastic or any other metal. The tactile bumps on the wheel resist sweaty or oily fingers. This means you never lose control of your game as far as scrolling is concerned.
7 Programmable Buttons – There are 7 programmable buttons on this mouse. This big number of buttons brings it closer to the Mamba Elite which has 9 programmable buttons. While this is not on par with gaming mice like Corsair Gaming Scimitar, 7 buttons provide ample opportunity to personalize the way you play a game.
Powered by Razer Synapse – Gaming mice are not the same they used to be a few years ago – now they feature hi-tech connectivity, maximum optimization, and insane control. Synapse is Razer's hardware configuration tool that totally syncs your mouse with your hardware.
PROS:
Best DPI Mouse
Best RGB Customization
Durable
Smart Technology
CONS:
Requires Login
Wrong Placement of DPI Buttons
Bottomline – Well, the real problem that I notice is that using the scroll you can accidentally press the DPI adjustment buttons which are right behind the scroll wheel. Other than this, this is an amazing mouse at affordable price. It provides maximum RGB customization and unparalleled DPI.
4- Logitech G900 Chaos Spectrum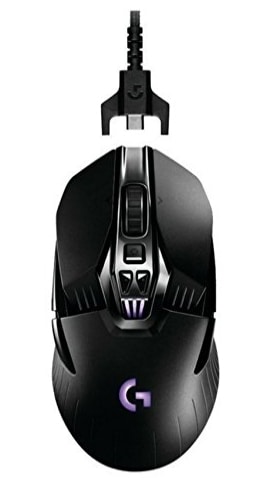 Do you love wireless gaming mice? Do you prefer a mouse that would enable you to fast switch between wireless functionality and wire charging? Logitech G900 Chaos Spectrum is a wireless gaming mouse that can be made a wired mouse in a moment.
Features:
Ultra-Fast Wired or Wireless Functionality – This is not your usual AA or AAA batteries mouse. This one has an ultra-fast wired or wireless connectivity. Just connect or disconnect the USB to enjoy any of these modes.
30 Hours Battery Life – The best thing about this gaming mouse is that it takes little time to charge and within only 2+ hours it achieves the maximum charging potential. Unplug it and enjoy wireless functionality for 24 to 32 hours.
200 to 12000 DPI Range – Not only you get to choose a WIDE range of DPI between 200 to 12000 DPI, but you can also choose between 5 different settings. The sensor of this mouse is an optical one; while laser ones usually have better DPI/performance, aside from DPI game, optical ones do a better job.
Ambidextrous Design – Yes, it does not matter whether you're a lefty or a righty, you can use this mouse. This could be our best ambidextrous mouse if I wouldn't have categorized as the best wireless mouse.
8 Million Colors Customizable RGB – You want to play with RGB colors and your gaming set up is lit with vibrant LED colors? If it is the case you would love how you can choose from 16.8 million RGB variations and breathing light patterns.
Mechanical Pivot Button Design – Confusing term? Let us make it easy. First of all, you need to know that all buttons on this thing are mechanical – rest assured you hear that satisfying click sound that means, "Job's done!" The pivot is about the metal spring tensioning system that is placed right underneath the left and right-click buttons. This system assures fast recovery after a click and fast move from right/left click to the buttons placed right behind the wheel.
11 Programmable Buttons – Speaking of buttons, there are 11 programmable buttons – now this is insane considering how the bestselling Razer mouse that I have reviewed above has only 7 programmable buttons and its next level (Mamba) has only 9 of them. This mouse is the wet dream of every FPS and MMO gaming buff.
PROS:
11 Programmable Buttons
Best Wireless Mouse
Ambidextrous Design
Best Mechanical Buttons
CONS:
Substandard Quality Side Buttons
Liftoff Distance Problem
Bottomline – In case you do not get the second con, the liftoff distance is where the optical sensor stops tracking. Due to questionable bottom design, this mouse demands more than usual caution while playing. Other than this minor issue, it is a great mouse because of the number of programmable buttons, ambidextrous design, and wireless connectivity.
5- Logitech G300s - Best Budget Mouse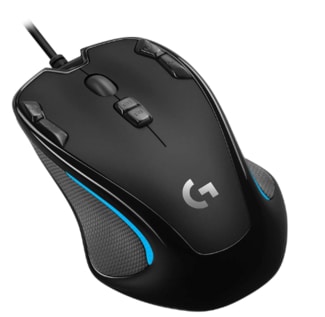 Here's a fun fact about computer mice – 90% of them are made for right-handed people because let us admit that left-handers are only 10% of the world's total population.
This is why we do not see any left-handed mice – for them, we make ambidextrous mice that can be used for both: right-handers and left-handers. G300s is the best ambidextrous mouse on this list.
Features:
250 – 2500 DPI with Optical Sensor – So, in terms of DPIs this gaming mouse is not as impressive as many others on this list. It offers you a maximum of 2,500 DPI. However, I think that DPIs are only one factor among many that decide how good or bad a mouse is. The gaming-grade optical sensor sort of compensates for the low DPIs. On-the-fly DPI shifting makes it easy to switch between 250 and 2500 DPI.
Symmetrical & Ambidextrous Design – This mouse has a symmetrical design and both sides look the same. The reason for making it symmetrical on all sides was to give it an ambidextrous look and feel. Both: right-handers and left-handers can easily use this mouse.
Three Memory Profiles – A very unique feature in this mouse is three memory profiles that you can save. The onboard memory profiles can be optimized for three different persons as well as three different games etc. The G Hub helps you save your preferences and you can connect your mouse to any system anywhere, play any game you like and your mouse will use the same settings that you previously saved.
9 Programmable Buttons – There are 9 programmable buttons – this makes this mouse just as programmable as any good mouse on this list. You can either go with the default configuration or configure each of the 9 buttons for the most important functions in any game. Assign either one command or a multi-command macro -it is totally customizable.
Matte Finish Wheel for Good Grip – The wheel does not have tactical bumps or similar other touches, but it has a durable matte finish that makes it somewhat resistant to oily/wet fingers.
Slick Feet – The feet or corners of the mouse's bottom are made of low friction PTFE material. These soft, smooth and swift feet make sure that your mouse works perfectly fine on any kind of surface.
1 Millisecond Report Rate – 1-millisecond report rate, depending on whether it is the company's claim or users are also happy with the report rate, is a pretty ideal one. It is the report rate that syncs the mouse with the pointer on the screen and this is why a pointer moves with the movement of the mouse.
PROS:
Best Ambidextrous and Symmetrical Mouse
9 Programmable Buttons
Memory Profiles
Durable
CONS:
Too Small for Bigger Hands
Only 3 Types of Lighting
Bottomline – This mouse has only one issue that they should improve in coming versions – you are only allowed to choose from 3 different types of lighting. Other than this one problem, this is a really good mouse with amazing features like the ability to save 3 memory profiles.
6- Corsair Sabre - Best for Fornite & PUBG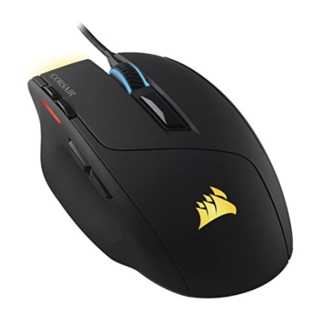 It is a matter of fact that an extraordinary gaming mouse can cost more than $100, but on this list, you'd see many quality mice that are priced at around $50. This one, however, is the winner with a price tag for less than $30 (at the time of writing this post). But don't you think that they compromised over quality to give you a price as ridiculous as this.
Features:
10,000 DPI Optical Sensor – So, this mouse has a 10,000 DPI optical sensor. An optical sensor is a better choice. If you are not happy with default DPI settings, you can use the Corsair's own calibration software iCUE to set up a DPI sequence that is more in sync with your gaming.
Four-Zone 16.8 Million RGB Backlighting – So what is a four-zone color pattern? The iCUE software allows you to choose a unique (your own and personalized) four-color pattern for your mouse. You can fully optimize the speed of color cycling.
iCUE Software for Optimum Calibration – I have already mentioned two functions of iCUE software; this software is behind all sorts of customization and calibration that you do for your mouse. It is used for macro programming and many other functions around this mouse and Corsair equipment that can be synced with this mouse.
8 Programmable Buttons – In total there are 8 programmable buttons – which are still more than Razer DeathAdder's 7 programmable buttons. You can customize them for the most frequent actions required in any video game or for any game that you are obsessed with.
Omran Switches for 20 Million Clicks – The Omran switches on this mouse are good for at least 20 million clicks – so this is some good mileage that you enjoy before the buttons start bothering you.
1,000 Hz USB Refresh Rate – 1000 Hz is a pretty above average USB refresh rate for any mouse. This rate shows the pace at which the cursor is updated. This means you'd enjoy lag-free responsiveness – much needed for multiple-player gaming.
PROS:
Affordable
Highly Customizable
Four-Zone Backlighting
8 Programmable Buttons
CONS:
A Bit Too Wide
Glitch with the Software
Bottomline – The last con is about iCUE; a few customers have reported how iCUE failed to calibrate a few buttons. However, such mistakes are very few and it seems to be a case of a few bad pieces. What I loved the most about this mouse is four-zone backlighting.
7- Razer Naga Hex V2 - Best Gaming Mice for big hands
Are you obsessed with MMO (Massive Multiplayer Online) games? If you are you must know the kind of mice are the best for them. Yes, MMO gaming is intensive and you need to have a lot of options just a little thumb movement away to avoid losing the round (think of PUBG). This is the best MMO mouse on our list; let us find out how.
Features:
7 Button Thumb Grid – Since this is an MMO gaming mouse, like of all them, it has plenty of buttons in thumb area (extreme left) – these buttons are in a circular setting. You can customize them for 7 most needed actions in your favorite game or all games.
14 Programmable Buttons – Other than the 7-button thumb grid, there are 7 other buttons on this mouse that make a total of whopping 14 programmable mouse buttons. So far, in this guide, I have not reviewed a single mouse with this many customizable buttons.
Ergonomic Layout – This mouse comes with an improved ergonomic layout when compared to other such mice. For most of the playstyles that experienced gamers know, this mouse will be a perfect fit.
16,000 Adjustable DPI and Laser Sensor – So this makes the whole thing interesting. This mouse has a maximum limit of 16,000 DPI – which is way more than above average mice on this list or on Amazon/everywhere. But the sensor is a laser sensor – while an optical sensor works better than a laser one, the good thing is that when you look at the combo of DPI and sensor, laser sensor has a higher DPI capacity than the optical ones.
8 million Colors – This mouse comes with Razer Chroma lighting and 16.8 million color settings to choose from. In case you do not know, Razer Chroma is not your usual RGB lighting; it provides a deeply immersive gaming experience. You enjoy different lighting effects with different gaming scenarios and different actions that you take.
Tilt Click Scroll Wheel – Another competitive edge that this mouse enjoys over others is the tilt click scroll wheel. What is a tilt click scroll wheel? This kind of wheels does not only scroll vertically but horizontally as well. In an FPS game, you can use this to move in all 4 directions.
Razer Synapse Enabled – Razer Synapse is a software made by Razer and it takes the simple gaming mouse functionality to the age of the cloud. Using this software, you can make individual gaming profiles with different settings for each game/system/person, save those profiles and settings in the cloud, program macros, track heatmaps and do a lot wherever you take that mouse with you.
PROS:
Great Ergonomic Design
Good Combo of Big DPI and Laser Sensor
Best MMO Mouse
Razer Synapse Enabled
CONS:
Synapse Account Needed
Problems with Scroll Wheel Clicking
Bottom line – So, the only real issue is that after a few months or years, the scroll wheel's clicking stops working properly – but it's an issue reported by a few customers only. Coming back to pros – this is the best MMO mouse on this list and it has one of the best lighting setups.
8- Corsair Gaming Scimitar - Best mouse for Small Hands
For MMO gaming, we already have a mouse that I've just reviewed for you, but what if you're addicted to multiple-player gaming and you need to have more than 9 buttons right underneath your thumb? This is what this mouse can do for you.
Features:
12 Optimized Mechanical Buttons – In total, this mouse has 17 programmable buttons – the maximum any mouse on this list has. 12 of those mechanical buttons are on the left side of the mouse and they can be optimized for any
5 Buttons on Top of 12 Side Buttons – Apart from the 12 keys on the side, there are 5 other keys, including the scroll wheel that can be customized for the actions that you want them to be used for.
12,000 DPI with Optical Sensor – This is usual, an above-average mouse with 12,000 DPI and an optical sensor. This proven 12,000 DPI optical sensor is a high performance one for the kind of pixel-perfect performance that you need in a highly intensive MMO game. You can tweak it using iCUE software from Corsair.
Four-Zone RGB Lighting – The Four-Zone RGB lighting is a unique feature that you notice in Corsair gaming mice. You enjoy dynamic multicolor lighting of your choice – the software gives you access to nearly unlimited colors, and you can choose any four zones and then configure each of them as per your preferences.
1 Millisecond Response Time – I have already emphasized enough the importance of response rate – the response rate is the link between a mouse and the position of a cursor. 1ms response rate means the pointer will move in 1ms of the mouse movement.
Compatible with Corsair iCUE – This mouse, just like all other Corsair mice, is fully compatible with the iCUE software. With this software, you can change the settings, keep things stored for using the mouse on any other system and control lighting as well as macro programming.
PROS:
Best Programmable Mouse
Biggest Number of Buttons
12,000 DPI Optical Sensor
Four Color Zones
Bottomline – In case you wonder how iCUE is messy – well a few customers are not content with the latest version of it. They say that it is hard to pick right RGB lighting and perform other kinds of customizations. However, there are so many good things to say about this mouse – top of them is it has the biggest number of programmable buttons.
9- Razer Lancehead - Gaming Mouse for Small Hands
How'd you like a Razer mouse with plenty of programmable buttons, ambidextrous design and a lot of other amazing features? A mouse that has got 250+ positive reviews so far and Amazon's Choice tag too!
Features:
16,000 DPI Optical Sensor – This mouse has the above-average 16,000 DPI optical sensor. When it comes to the combo, the laser ones work much better, but in terms of overall performance, the optical sensor is way better than the laser one.
Ambidextrous Design – This is yet another ambidextrous mouse on this list – you can use it perfectly, irrespective of whether you're a right-hander or left-hander.
9 Programmable Buttons – There are 9 programmable buttons that you can program using Razer's special software for such calibrations and customizations. There are 2 programmable buttons on each side. There are two buttons right behind the wheel and they are to configure DPI settings and the wheel itself can be used as a button.
Customizable Chroma RGB with 16.8 Million Colors – There are 16.8 million colors from which you can choose RGB colors of your choice. We have already talked about the Razer Chroma lighting which provides a deeply synced gaming experience through RGB lights.
Rubberized Scroll Wheel with Tactile Bumps – Something that we mostly miss in high-quality Razer mice. Thanks to them that they made this mouse's scroll wheel a rubberized one with tactile bumps. This means that you enjoy a 2x grip against oily and wet fingers.
Durable Mechanical Switches with 50 Million Clicks – The mechanical switches on this mouse are not going to give up on you any sooner than 50 million clicks – and they are a lot for any gamer or a PC person. Suffice it to say that if you want a durable mouse, this one is the right one.
PROS:
9 Programmable Buttons
Ambidextrous Design
Chroma RGB Lighting
Sturdy Mouse
CONS:
Not for Palm Grip Users
Too Much Reliant on Software
Bottomline – Yes, this is true and perhaps the only considerable con of this mouse; you have to download a whole bundle of software to use this mouse. Other than this drawback, this a perfect ambidextrous mouse with so many options.
10- Steel Series Rival 700 - Best mouse for for CSGO
Steel Series is a relatively new entrant in the gaming mice game, but their Rival 700 seems to be on part with the best Razor, Logitech and Corsair Mice. It has a very ergonomic design and everything that one expects from a professional gaming mouse.
Features:
16,000 CPI Optical Sensor – So it is 16,000 CPI, not DPI! Alright, what is a CPI? CPI is counts per inch and instead of dealing with "dots", it dictates the number of steps that a mouse reports per inch. It is all about how sensitive or accurate is the movement. In terms of gaming experience, these geeky details do not matter much.
OLED Screen for Notifications – Now this is something new. There is a small OLED screen on the left side of the mouse. On this OLED you can see notifications about your game and your customizations etc. You can see on-the-fly CDI changes, in-game stats, button mapping and a lot.
Tactile Alerts for Critical Situations – There are tactile alerts positioned in the center of your mouse. You can choose the kind of in-game event that should trigger the alerts e.g. someone firing at you, near-death situation – anything. This brings you more in unison with immersive gameplay.
TrueMove3 Optical Sensor – In case you are done with CPI and DPI nonsense and these terms do not make any sense to you anymore, you can use TrueMove3 1 to 1 track. This tracking moves the pointer on the screen just as much as you move the mouse.
Modular Accessories – There are some swappable modular parts/accessories that come with this mouse and that you swap anytime. The parts include a sensor, cable, and cover, etc.
Maximum Customization – There is no limit to which you can customize the mouse. The limit is simply limitless – you can customize OLED display, tactile alerts, buttons, profile settings, acceleration … and the list is long.
PROS:
Extremely Customizable
Tactile Alerts
OLED Display
Realistic Tracking
CONS:
Expensive
Squeaky Scroll Wheel
Bottomline – So, this might be an expensive mouse, but considering the insane level of customization and trackability that it offers, I would say that it is worth the money. The squeaky scroll wheel complaint concerns me a little, but it was made by only a few customers.
Gaming Mouse Buyer's Guide
Now:
I've just reviewed 10 top gaming mice for 2020, but let us assume that you want to take things in your hand and you want to know what to look for when buying the best of the best gaming mice.
You must know, which gaming mouse you need for such games.
This buyer's guide will help you with that:
Sensor – So, you have been using all sorts of gaming and computer mice, what kind of sensor you naturally come along with? It is optical or laser sensor? When it comes to mouse to pointer movement sensitivity, DPI matters a lot. A laser sensor has higher DPI and it makes a mouse more sensitive. However, when it comes to accuracy, an optical sensor beats the laser one.
DPI – DPI or CPI does not matter much. Both of them are linked to the movement of the cursor on the screen. The link is between real estate that a mouse has to cover to get so much movement from the cursor. Among all the mice I have just reviewed, I liked the Rival 700 as fat as sensitivity is concerned. Why? Because it lets you have a cursor movement that is proportionate to your mouse's movement.
Wired or Wireless – This is more about personal choice, but people who want to enjoy good gaming experience from a more than safe distance, prefer wireless mice. These new gaming mice are more advanced and you get the same kind of responsiveness that you get with a wired one.
Right-Handed or Ambidextrous – Let us admit it – there aren't any left-handed gaming mice and if there are, those are not on par with these famous models. You can either go with a right-handed one or get an ambidextrous mouse that is good for both kinds of people. Check the specs before you buy your mouse.
Claw or Palm – Some people like to use their gaming mouse with claw – using fingertips to hold the mouse and press the buttons, etc. Such a mouse is a long body and highly curves. The ideal mouse for those who use the entire palm to hold it and use most of the finger real estate to click the buttons would mostly be a bit flat. Make sure that you know about your mouse before you buy it.
Cost – This goes without saying that you cannot buy the best gaming mouse in the world if it is beyond your budget. But this does not mean that you must buy crap for your cash. You can always get a high-quality gaming mouse from a low-profile brand.
Customization – How many programmable buttons are there? How many of them are on the side (for MMO)? How many RGB color settings you can get access to? Can you use any software or app to save your gaming profile and settings to use the same mouse with the same settings on a different computer?
Verdict
Before I give my verdict, here is a little table to put things in perspective:
And here are three best gaming mice for 2020 – as per my personal opinion:
Logitech G502 Proteus Core – big number of programmable buttons, plenty of colors and DPI to play with
Corsair Gaming Scimitar – biggest number of programmable buttons, 4-zone color scheme and one of the best for MMO gaming
Logitech G900 Chaos Spectrum – a big number of programmable buttons, ambidextrous design and many color and DPI settings