Auto Key Presser for games is a handy program that can greatly assist anybody who performs repetitive inputs of a keyboard at work or home computer. It does precisely what the name suggests; it can repeatedly hit an assigned key throughout the pre-set time interval. As the only other convenience feature, it can also carry out the automatic input of the combo of 2 buttons.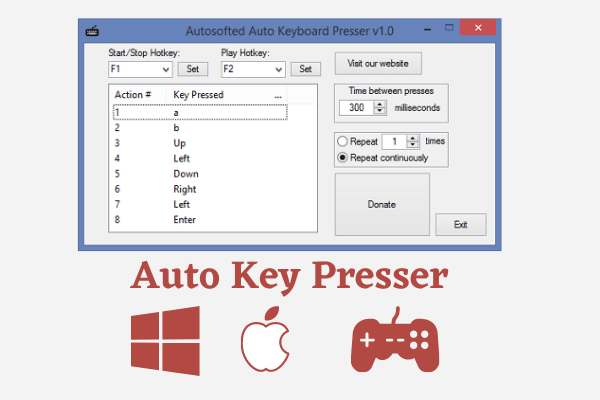 This added feature will be extremely helpful to those who have to hit a few advanced shortcuts on the keyboard repeatedly (for example, CTRL+ any other button). The Auto Key Presser tool was built to be straightforward and lightweight for use, and because of that, it doesn't feature any other advanced program or even configuration tool.
Everything that Auto Key Presser free provides is shown to you on the minimalistic main screen that has plain system user interface visuals. Even though this tool can just hit (or hold down buttons) and nothing more, it can save a little time if the everyday workload is extremely repetitive and calls for such processes.
Features Of The Auto Key Presser
One of the simplest programs to facilitate the repeated on-demand button-pressed
Minimalistic user interface
One hundred percent free of cost
Key combination or single key operation
Fast and lightweight
Set the ideal interval for automatic pressing
Accessible on all the modern versions of Windows operating systems
Installation And Usage:
Auto Key Presser for Roblox comes in an extremely small installation package that you can install it in just a few secs. It also has a full-featured uninstaller that can remove the tool from the system completely, leaving no traces behind. The main user interface of the Auto Key Presser chrome has a single plain-looking and small window where you can input both a dual or single keyboard command and selects how long the tool has to type it repeatedly.
After you've selected the keys and duration, all that remains is to click Start. The program doesn't support any keyboard shortcuts for starting the service. You can just start it by clicking on Start, after which the program will concentrate again on the last used tool and complete its task.
There's also no way to end automatic keypresses once they've been initiated. With the current feature-set, this lightweight tool will be appropriate just for those who need just the simplest program for the repeated automatic key presses. If you require any advanced features, like the support for more complicated key macros or system-wide shortcuts to activate the keypresses, you'll be out of luck.
Advantages:
It offers support for virtually all Windows versions. The straightforward interface is not a problem at all for any user, even beginners. Choose the key you desire to be pressed, select if you desire it to be pressed constantly or at certain time intervals. Utilize hotkeys to initiate and end the key presser.
Disadvantages:
The trial version will discontinue clicking a key after a minute.
FAQs:
How Do I Get The Keyboard To Auto Press?
First of all, download, install and open the auto key pressing tool.
After that, choose the key which you desire to be automated from the list of buttons accessible from the main screen of the program.
Then, hit the desired hotkey or shortcut combination and hit assign.
Conclusion:
A few jobs involve a lot of key pressing, and at times, the issue is that such keys are so repetitive that they can be extremely time-consuming. So, it is better to automate this procedure; that is where you will require a good tool that will do just the thing. That is where the Auto Key Presser mac program comes in very handy.
This application is exactly what the name implies. The tool will assist the users in pressing a few keys over time that will assist them in automating certain tasks. You can also specify which keys have to be pressed and the intervals of time between the clicks. You can even assign a little more advanced keyboard shortcuts to this tool. So, whenever you need to do a lot of repetitive key pressing, you can make use of this fantastic tool for free.